RESOURCES FOR CHILDREN'S CELEBRATION AND IMAGINATIVE PLAY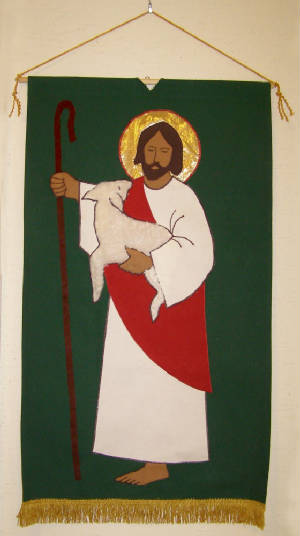 GOOD SHEPHERD BANNER
This bright, bold image of the Good Shepherd is on a green background, in simple solid colors, with a gold halo and a very touchable fuzzy lamb. Gold fringe trims the bottom of the banner.
The finished banner is 21 by 36" in size and surprisingly lightweight—easily carried in procession by children as young as 4. It can also be hung from a hook.
An ideal image for hanging near your children's altar or in a church nursery. The style is simple and classic, equally at home in traditional and contemporary surroundings.
This banner is available ready-made or as a kit.
To order, click on the Order Forms tab, or call 203-624-2520.

bannr01: Good Shepherd banner pattern. $ 25.00
bannr02: Good Shepherd banner, made to order. $400.00
Please allow several months' lead time for custom-made banner orders.
The kit consists of two sheets of full-sized patterns (one for the background fabric and the other for all the separate pieces) plus detailed, illustrated instructions for cutting, assembly, finishing, and display. Fabric, trim, poles and hardware are not included. Intermediate sewing skills, and a sewing machine that does zigzag/embroidery stitching, are essential.
Under consideration for future development: designs and kits for additional banners, including the "other" Good Shepherd—the beardless youth in a tunic with the lamb on his shoulders—and also for clergy stoles, some designed to be decorated by children.

We also hope to develop a new Jesus doll, to our own design, since our beloved Jesus Doll from the In Stitches ministry is no longer in production.

Your suggestions and requests are welcome!
---
WOODEN PLAYSETS
Our wooden playsets take the style of The Sunday Paper and Beulah Land into three dimensions, providing additional possibilities for storytelling and imaginative play. Designed by Gretchen Pritchard, they are made of smooth hardwoods, in a variety of natural wood tones. Adult human figures are around 4" high. Order by clicking on the "Order Form" tab.
---
CHURCH PLAYSET

light wood

plset01

$25.00

CHURCH PLAYSET

dark wood

plset02

$25.00

Our church playset comes with

~ a backdrop with removable felt covers in four liturgical colors

~ altar, font and lectern/pulpit

~ priest and people (man, woman, boy, girl)



Extra set of people (Man, woman, boy, girl)

light wood

plset03

$10.00

Extra set of people (Man, woman, boy, girl)

dark wood

plset04

$10.00

Extra backdrops

Simpler than having to change the felt cover!

light wood

plset05

$ 5.00

dark wood

plset06

$ 5.00

Please note: church playset order codes are specific to the wood color, light or dark. Please be sure to enter the correct order code on the order form.
---
JESUS, DISCIPLES AND WOMEN PLAYSET

Irresistible hardwood figures of Jesus, twelve disciples, and four women. Each one is individually designed and posed, with an appearance and personality that match their counterparts in The Sunday Paper and Beulah Land. The set includes a leaflet identifying each figure. A wide range of wood tones further increases the set's variety and appeal. plset07 $50.00

BOAT AND TABLE plset08 $50.00

So many stories in the Gospels take place in a boat or around a table. These beautiful glossy wooden models are scaled to correspond with the "Jesus, Disciples and Women" playset. All the figures fit into the boat and around the table, opening up a wealth of possibilities for children to work and wonder with the Gospel stories.

Note: the boat model is not intended for water play.
---
GOOD SHEPHERD PLAYSET plset09 $40.00

This Good Shepherd set has several distinctive features that correspond to the Good Shepherd story in Beulah Land:

~ the wolf is included, as well as the shepherd and eight sheep

~ the sheepfold is composed of separate blocks, easily
rearranged for additional play and wondering opportunities

Also included: green felt underlay, to demarcate the sheepfold area.



---
SUMMARY OF PLAYSET FEATURES AND PRICES
To order, click on the Order Forms tab, or call 203-624-2520

CHURCH PLAYSET

light wood

plset01

$25.00

CHURCH PLAYSET

dark wood

plset02

$25.00

Extra set of people (man, woman, boy, girl)

light wood

plset03

$10.00

Extra set of people (man, woman, boy, girl)

dark wood

plset04

$10.00

Extra backdrop

light wood

plset05

$5.00

Extra backdrop

dark wood

plset06

$5.00

JESUS, DISCIPLES and WOMEN PLAYSET

mixed woods

plset07

$50.00

BOAT and TABLE

dark wood

plset08

$50.00

GOOD SHEPHERD PLAYSET

light wood

plset09

$40.00
---
BEULAH LAND JIGSAW PUZZLES

Our 30-piece full color puzzles come in compact boxes. Each assembles to make a Beulah Land montage around 8 x 10 inches. Excellent for a quiet activity or as gifts or prizes.

Beulah Land puzzles: $12.00 5 or more, any combination of designs $10.00 each

To order, click on the Order Forms tab, or call 203-624-2520

puzzl01

Resurrection scene

puzzl02

Crucifixion scene

puzzl03

Last Supper scene

puzzl04

Nativity with shepherds and magi

puzzl05

Christmas scene with shepherds

puzzl06

Epiphany scene with magi (no shepherds)

puzzl07

Christmas scene (Holy Family only)

Beulah Land puzzles: $12.00 5 or more, any combination of designs $10.00 each