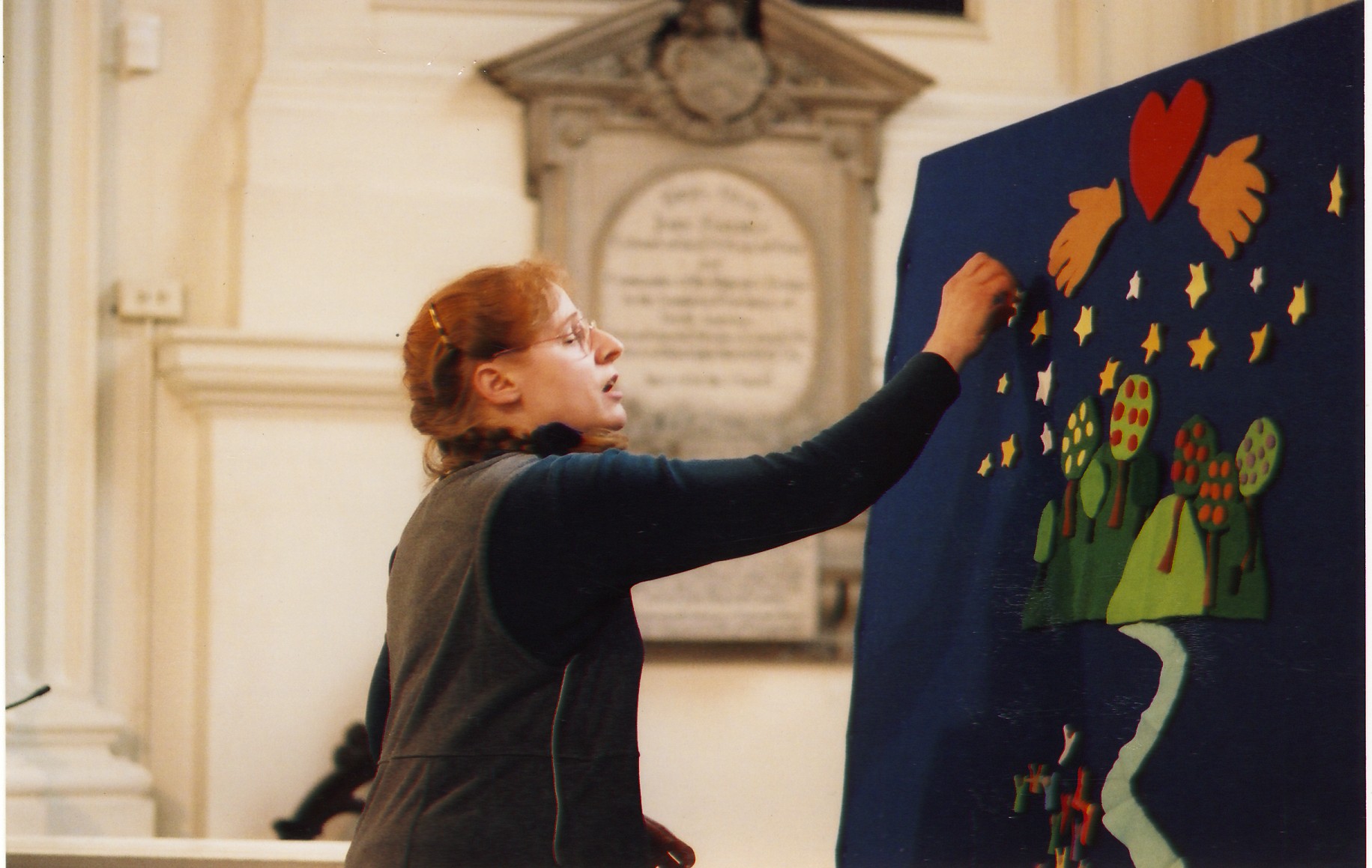 WORKSHOPS AND SPEAKING ENGAGEMENTS
I did my first workshops more than 30 years ago, and had quite a full calendar of speaking engagements for over ten years. I began to cut back on that side of my ministry with the expansion of my parish responsibilities in 1995, from part-time Minister of Christian Nurture to full-time Children's Missioner. Then, after 13 years as Children's Missioner—and 29 years as Minister of Christian Nurture—I retired from parish work in 2008, and expected to resume traveling to parishes, dioceses and other gatherings. But the effect of the recession on church budgets, and the rapidly changing shape of communication and ministry, meant the pace did not pick back up. And our family entered an extended period of stress that meant I had neither time nor energy to take on travel and speaking engagements.

The clouds have mostly lifted (and I've had a hip replaced), and I've begun to catch up with how to network and exchange ideas in the new information age. If you should happen to be interested in the kind of approach to children's spirituality that The Sunday Paper has come to represent, please do get in touch; it would be fun to hit the road again now and then.
SAMPLE WORKSHOPS AND PRESENTATIONS

Typical workshop: Saturday, 3 to 4 hours

$450.00 plus travel

Part 1 (one hour): Tell Me a Story
Stories are children's tools for learning about life, coping with life, and drawing meaning from life. Scripture is our story as God's people. Yet we persist in presenting it to children as a lesson rather than as a story that is remembered and celebrated in community. An exciting vision of Christian education as "liturgical storytelling;" also includes an outline of children's faith development.

Part 2 (one hour): "Once Upon a Time" to "Happily Ever After"
The Bible story, told from beginning to end, with Beulah Land feltboard figures.

Part 3 (30 to 90 minutes): How Do We Tell the Story?
Small group Bible study and discussion followed by plenary forum; or simply a question-and-answer discussion time.

"I very much enjoyed your morning offering of the gospel at First United in Oak Park, IL. The value of the whole salvation history you gave (and give) to the gospel was awe inspiring. Watching you weave God into our lives with the Ark, the Temple, Jesus, and the final feast in celebration of the marriage of God's Son was just too fantastic. Thank you. I hope your ministry continues to grow, particularly your ministry to adults who so desperately need your vision and inspiration." - Jane Esterline, North Riverside Community Presbyterian Church, IL

Additional modules

$300 per module plus preparation time

Friday evening pre-presentation
An opportunity to present more background material, and/or free up more time on Saturday to discuss practical applications; or may be customized for a different audience than Saturday.

How to do it
Open forum on the nitty-gritties of applying a more liturgical, celebratory vision of Christian nurture in the parish. Pageants, seasonal celebrations, building a parish library, and much more.

Faith and celebration in the family; going to church with children; welcoming children in worship
A variety of perspectives, responsive to your needs and situation, on how to tell and celebrate our story as children and adults together.

LIGHT AND PEACE: a model of liturgical evangelism with children in poverty
A challenging, innovative application of liturgical storytelling in a downtown parish, Light and Peace is a replicable program. 15-minute video, followed by discussion. Extensive handouts with detailed documentation; can be expanded to full workshop on faith-based outreach with children in poverty.


"The feedback from your discussion of LIGHT AND PEACE and from the workshop has been exceedingly positive. Participants learned new techniques, new methods of working with children, and were reminded that children and adults form a community of which they are all an integral part. I especially took to heart your counsel to let children experience stories, worship, liturgy, etc.; it is not necessary to explain everything to them." - Gretchen Marcus, Episcopal Diocese of Maryland