The original SUNDAY PAPER appeals to intermediate through junior high, and presents one lesson (usually the Gospel) as a two-line cartoon; the other readings, and the Psalm, are presented as single vignettes. The lessons are tied together with a short commentary. THE SUNDAY PAPER now provides both Track One and Track Two of the Revised Common Lectionary (as used by the Episcopal Church USA) to all subscribers, allowing you to mix and match depending on which lessons are read in church on a given Sunday.

THE SUNDAY PAPER JUNIOR is aimed at younger children (preschool children through grade 3 or 4), and also covers both tracks of the Revised Common Lectionary. The SUNDAY PAPER JUNIOR features one lesson only, usually the Gospel. THE SUNDAY PAPER JUNIOR offers big, bold artwork, a simple story line, an activity page designed to stir children's imaginations and spirituality and that requires pencil or crayons only (no glue or scissors) and does not involve word games or other activities requiring high literacy. THE SUNDAY PAPER JUNIOR can be used in church, nursery, or classroom.



"My parish subscribes to both age editions of  The Sunday Paper, and we love them!  I knew about them from my previous parish in Virginia where we also used them and believe they are an important part of a larger effort to say to parents and children alike:  'It is important for the kids to be here, and we want them here!'  And to be able to do that with something that in itself is also such a quality biblical educational product is a real joy." ~ The Rev. Susan Buchanan, Christ Church, North Conway, NH
"Everyone who saw [The Sunday Paper samples] said 'order them!' These people included our Priest, our Senior Warden, and the members of the Sunday School Committee." ~ Joy Waters, St. George's Parish Spesutia Church, Perryman, MD.

"We're using the Sunday Paper as a pillar of our parent and children support/education Wednesday School. I'm coming to realize that cartoons and parables are intimately related." ~ The Rev. Michael Tippett, St. Paul, MN
Click below to download and print a full-size issue of The Sunday Paper or The Sunday Paper Junior, in .pdf form.  To format them correctly, use legal-size paper (8 1/2 by 14 inches) and set your Page Scaling preference (on the Adobe Print menu) to "None."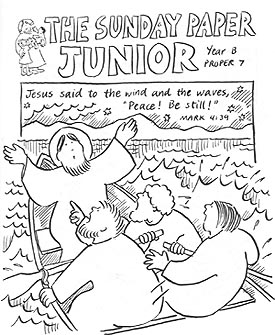 Subscribers to THE SUNDAY PAPER or THE SUNDAY PAPER JUNIOR receive one copy of each Sunday's issue, which may be duplicated in quantities needed for local use.
Sunday issues are supplied in batches by church seasons, two weeks before the first Sunday in the batch.  You may subscribe year-round or for portions of the year.
You may choose to receive your materials in hard copy by US Mail, or as .pdf (Adobe Acrobat 7.0) files via email.
NOTE: For consistently successful electronic subscription, your mailbox must be able to accept transmissions up to 10 MB in size.
We held our prices steady for many years in spite of increases in costs. Now, with electronic distribution, we are have been able to decrease our rates for email subscribers. Prices for the paper version, by mail, have gone up as of May, 2008.
A full year of either THE SUNDAY PAPER or THE SUNDAY PAPER JUNIOR is $76.00 for email, $105.00 for hard-copy. An academic year (September through Pentecost Sunday) is $63.00 for email, $88.00 for hard copy.

A full year of both THE SUNDAY PAPER and THE SUNDAY PAPER JUNIOR, ordered together, is $120.00 for email, $165.00 for hard copy. An academic year of both is $96.00 for email, $132.00 for hard copy.

Trial subscriptions for one "season" (6 to 8 weeks) of either THE SUNDAY PAPER or THE SUNDAY PAPER JUNIOR are available for $22.00 email, $30.00 hard copy. A trial subscription of both editions together is $32.00 email, $45.00 hard copy.

Or you may put together a combination of seasons, such as the two summer seasons, or Fall through Advent/Christmas, or Epiphany through Eastertide, to match your particular needs or your budgetary calendar. Prices for such orders for either THE SUNDAY PAPER or THE SUNDAY PAPER JUNIOR are $12.00 per 6-to-8-week season (email), $18.00 per season (hard copy). Per-season rates for both SUNDAY PAPER and JUNIOR together are $18.00 per season (email) or $28.00 per season (hard copy).

For further details, see the ORDER FORM page.



"We thoroughly enjoy The Sunday Paper and feel it is by far the best children's worship bulletin ... we have ever seen ... the art is wonderful, the section for parents on the back page ... is so helpful, the activities for the children are thoughtful in such a way that really helps my children to understand the day's message ... and the bulletins are age appropriate! Thank you for your ... creation of these mini-gems!" ~ Mindy Haynes, Heavenly Rest, New York City
"Solid theological insights on every level, including the deepest symbolical levels, and genius for conveying it to children. Never watered down or insipid ... I never have found resources that good before." ~ The Very Rev. Leona Irsch, Avon, New York.

"I find THE SUNDAY PAPER JUNIOR an excellent resource for our small church; I've used your Note to Parents several times on bulletins to tie in with my sermon." ~ The Rev. Parker Marks, St. Michael's, Easley, SC.

"I don't feel like a 'natural born storyteller' but your cartoons helped me tremendously! The children seemed to be listening attentively and seemed to be remembering the stories week after week. Thank you for giving me the courage, images and words with which to tell the whole story of our people. Thanks for your books and leaflets. Keep up the great work!" ~ Iris Bladsell, Emmaus House Chapel, Atlanta, GA
"Oh how the children look forward to their weekly edition! I have forwarded nformation to the church down the street and so I hope that they too will start a subscription. Many many thanks for your hard work, I wish you could be here on Sundays to see and hear the children when we hand their papers out -- many of them like a copy of each." ~ Carol E. Kirner, St. Paul's Church, Brookfield, CT
Occasionally, you may change your mind and decide The Sunday Paper is not for you. Our cancellation policy is to charge for actual shipments sent to date, at the per-season rate, plus an administrative charge of $10.00. Our prices are, in effect, a licensing fee, so this policy applies even if you return the materials, as long as you did in fact originally order them.
For more details, see the "Order Form" page.